Happy Holi 2018: The festival of colours Holi is finally here. The colourful festival of Holi will be celebrated on Friday, March 2 this year.
Holi is an ancient Hindu religious festival and there are many stories related to the festival. The most popular legend is about Prahlada and his father King Hiranyakashipu. It says that Lord Vishnu took the form of Narasimha when demon Hiranyakashyap's sister Holika tricked Prahlad to sit on a pyre with her. It is celebrated to recall the victory of good over evil.
Holi festival signifies the end of the winter season. The celebrations start on the night on full moon day (Purnima) with a Holika Dahan. People gather and perform religious rituals in front of the bonfire and pray that their internal evil is destroyed the way Holika was killed in the fire. The next morning is celebrated as Rangwali Holi, where people smear each other with colors and drench each other.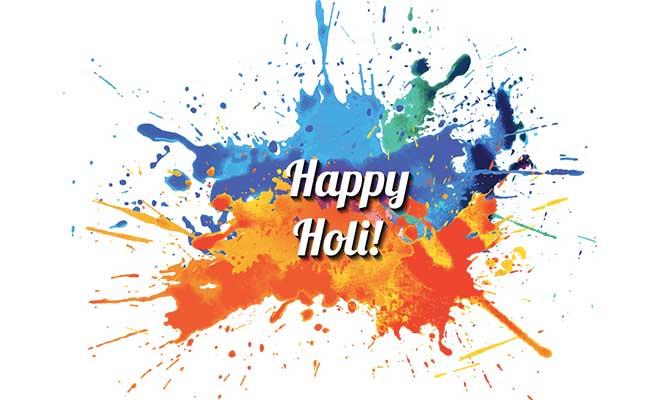 It is preceded by Holika Dahan which is observed the night before. On Holika Dahan or chhoti Holi as it is popularly known, families gather around a bonfire. The fire of Holika Dahan signifies the triumph of good over evil. The day after, the festival of Holi is celebrated among friends and family and it is all about colours. The Hindu festival of Holi marks the end of winter and beginning of spring. Holi is also the day to forgive enemies and let go of grudges. The joyous occasion of Holi is usually celebrated with colours and flowers while dancing to songs about the festival and topped with scrumptious gujiyas and thandai. But if you are far away from your family this Holi or want to send across a wish to someone special, we've compiled some Holi greetings you can share with them this festival of colours
Here is the list of Holi messages, images, quotes to share with family and loved ones on Whatsapp and Facebook on the Occasion of Holi festival 2018:
Every day needs to be colorful, but seldom it is. So, stock up for a whole year! Happy Holi!
May your life be filled with happiness and may you be successful in whatever you do. Wishing you a very happy Holi!
Holi 2018 Status, Quotes, Messages In English
Bright colors, water balloons, lavish gujiyas and melodious songs are the ingredients of perfect Holi. Wish you a very happy and wonderful Holi.
May God gift you all the colours of life, colors of joy, colors of happiness, colors of friendship, colors of love and all other colours you want to paint in your life.
Just like a red rose that fills the world with beauty & fragrance'
You have made my life so beautiful by being in it.
On Holi, the festival of colors & joy I wanna say
thank you for all the love & smiles you've brought to my life.
Holi is the day to express love with colors. It is a time to show affection. All the colors that are on you are of love!
Holi is a special time of the year to remember those who are close to our hearts by splashing colors!
Dipped in hues of love and trust has come the festival of Holi.
A true and caring relation doesn't have to speak loud, a soft message is just enough to express the heartiest feelings. Enjoy the festival of Holi with lot of fun.
Make merry with colors on Holi and the rest of the days with the colors of love.
Red for love, green for prosperity, orange for success and pink for happiness. May God Bless you and your family with all these colors, Happy Holi!
"Best wishes to you for a Holi filled with sweet moments and memories to cherish for long. Happy Holi!
If Wishes come in Rainbow Colors, then I would send the brightest one to say Happy Holi".
Holi is a time to reach out with the colors of joy. It is the time to love and forgive. It is the time expresses the happiness of being loved and to be loved through colors.
Holi is not only about colors and sweets. It reminds of the divine and eternal love of Krishna and Radha.
It also reminds one of Narashima, Prahlada and Hiranyakashyapa and thus the fact that 'Truth and Humanity are invincible forces in the Universe'.
Let the colors of Holi spread the message of peace and happiness.
Holi 2018 Status, Quotes, Shayri In Hindi
Pyar ke rang se bharo pichkari,
sneh ke rang do duniya sari,
ye rang na jane koi jaat na koi boli,
aapko mubarak ho aapno ki holi.
Holi aayi satrangi rango ki bauchar laayi,
Dher Saari mithai aur mitha mitha pyar laayi,
Aap ki zindagi ho mithe pyar aur khusiyon se bhari,
Jisme samaaye saaton rang yahi subhkamna hai hamaari...
Pichkari ki Dhar,
Gulal ki bauchar,
Apno ka pyar,
Yahi hai yaaron holi ka tyohar.
Happy Holi!!!
Puranmashi ka chand,
Chand se uski chandni boli,
Khushion se bhare sabki johli,
MUBARAK ho apko pyari HOLI.
Gul ne gulshan se fulfam bheja hai,
Sitaro ne assman se salaam bheja hai,
Mubaraq ho appko holi ka tyohar,
Humne dil se yeh paigan bheja hai...
Aise manana Holi ka tyohar